Hi, I'm Matthew Lyles Hornbostel. I'm an indie game dev, video director, vfx artist, eBay & Etsy vendor, painter, scribbler of drawings. I run about a dozen interconnected websites too. Here are a few examples of my paintings and pastel art displayed in a .GIF: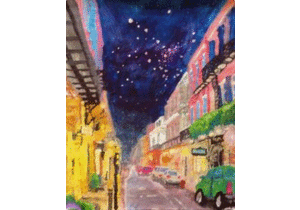 Handmade art by Matthew L. Hornbostel
My eBay account, with seller name mtthornb, has 350+ positive ratings, (100% positive) and I often sell handmade artworks there, but so far my reputation here on Itch.IO has yet to be similarly firmly established with positive reviews or ratings. I do think the content I've released here has solid quality and variety, and is very inexpensive, so I'm hoping my releases in this venue will succeed soon too. But it won't unless you not only buy but actually rate, the collections of assets I sell here. Please do so.
MINIATURE MULTIVERSE (INDIE GAME):
I'm releasing an intriguing art-game called Miniature Multiverse, an indie virtual tour of miniature fantasy worlds in a first-person view. If that goes well, it could lead to a lot of my other large, imaginative productions getting off the ground sooner than would otherwise be the case.
That is showcased with website MiniatureMultiverse.com.
Release is sometime around June-July 2019 [roughly]. I'm finally close, but still about $160 off from being ready to launch. I'm making a small attempt to promote this itch page, in hopes that it'll lead to sales on Itch and eBay by end of May 2019.
STOCK MEDIA COLLECTIONS: In the process of making games and videos, I've created tons of:
-1500+ texture maps, including a wide variety of seamless diffuse textures plus a lot of related specular, opacity, bump and normal maps.
-150+ compositable video VFX elements, recorded against blue or black, often in HD, often 60 or 120 fps. You can get those here too.
-25+ 3d assets. My plan is to actively expand what I'm selling in this category, to include over 100 different 3d modeled nature assets [.fbx and .obj with related textures] for 3d scenes by the end of 2019.
SALES AND FREEBIES: I have sales posted at times, typically during holidays or big events or when I'm about ready to release something new. Often near the end of a sale, a completely new product will be posted. When a sale's active that usually means a modest discount on individual products and a better deal with a larger percentage discount, on multiple items, bundled together.
A few of the segments of my stock media are downloadable for free on TriumphantArtists.com. I also offer stock media on DVD via eBay & HornbostelProductions.com and also handmade artworks those two places, and on Etsy. I have also posted 'falling snow', '3d explosion', and 'blood spray' clips free here on Itch.IO.
I also have posted a limited number of free download links here. Most are used by now [May 2019].
I have a lot of video stuff headed for release on HornbostelVideos.com and I've also got a Patreon page, Twitter account, FB group, Pinterest boards, and a web forum. There's a ton of cool stuff here so it'd be great if you'd browse through some of it, keep an eye out for updates, and maybe you'll find something really useful for your own creative work!