2020 bonus texture asset pack
A downloadable asset pack
2020 BONUS TEXTURE PACK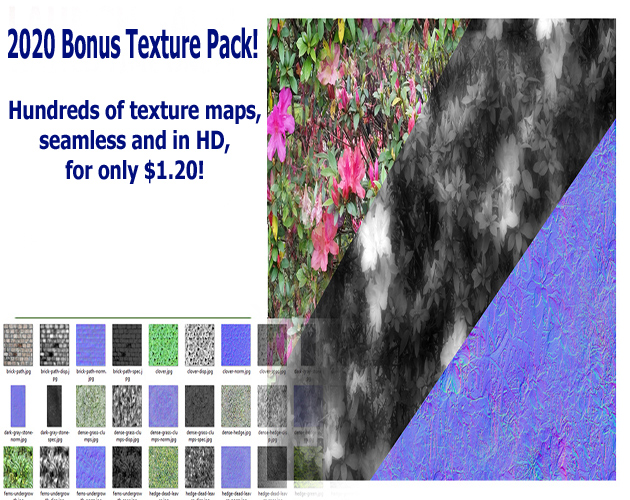 WHAT IS THIS?: I've gathered a massive volume of more of my own carefully selected photography, high resolution, and am steadily processing that material into tiling texture maps usable for 3d art and game development. Some - about half - of this work is already done. That is, nearly 50% of the source photos are already processed into finished textures.
This collection's been updated frequently since first launch on April 27th.
By the end of May 2020 it should contain over 500 texture maps.
FULL DISCLOSURE [minor caveats]:
Texture count - Only about 200 as of the end of the launch sale on May 3rd. But incremental updates continue to happen a few times each week. The promise of 500+ textures by end of May is still on track.
File size - Further, keep in mind that most of these image files are large, minimally compressed and are averaging around 1.5 mb each, so by the time May is over this collection may well be close to 1gb, a substantial download filesize.
Pricing - The launch sale discount's over but watch for an awesome bundle deal on the weekend of Memorial Day - May 22-26, 2020. During that time there'll be a stunning 91% off on a bundle of everything I've got on Itch.IO. So... $10+ in assets and content for only $0.99.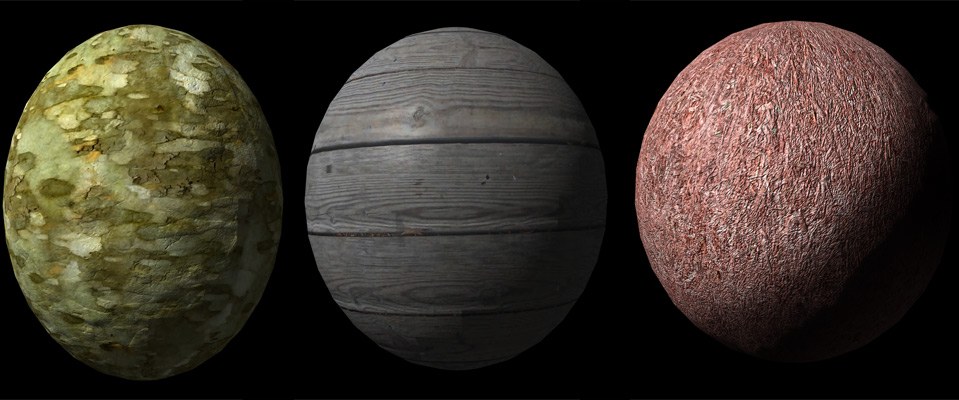 TEXTURE QUALITY:
These materials I am working on, are new, HD, high-res textures. Many of them are 2048x2048, some are lower res but all at least one megapixel or so. [i.e. the lowest resolutions are 1024x1024 or 512x2048]. They all are tileable. The texture maps included are not all diffuse maps, some are bump/displacement maps, some are normal maps, some are reflection/specular maps. A few of the textures I'm working on, are also going to have opacity/transparency maps. All of these textures, as with other asset packs I've released before, make it possible to create realistic-looking materials for 3d art.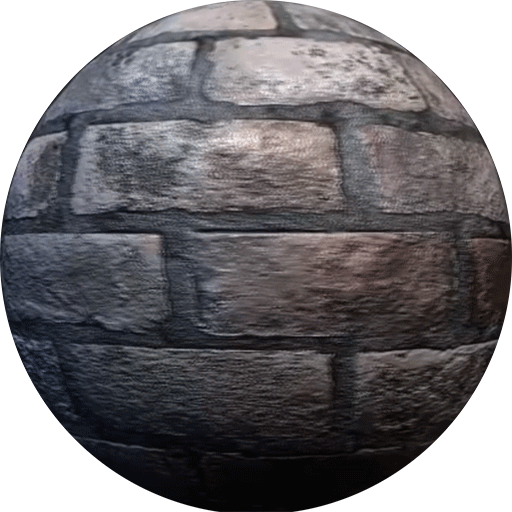 If this seems like a useful collection to you because you are working with 3d art for game levels or VFX/video cutscenes, then you should probably grab this while it's deeply discounted. And feel free to browse my other asset packs and projects too on my profile - https://matthornb.itch.io/ as I have a ton of similarly fantastically well-priced and very substantial collections beyond this one.
PLEASE RATE OR REVIEW IF YOU LIKE THIS:
Also, as usual, if you buy this, or anything else I'm offering here, I and everybody else browsing these pages, would appreciate it if you would please post an honest review, criticisms, suggestions and all, after buying. Reviews and star ratings and other forms of feedback like comments, are super helpful. I've sold over 20 items on Itch.IO so far but have yet to see a single complete star rating or review, just a brief happy comment on one of my first asset packs. This may seem counter-intuitive to you, but the general absence of reviews is, from my point of view, actually a weird sort of confirmation of my asset quality even if you can't see it, I can see the sales count and to me it suggests my hard work - hundreds of hours of work - on these six asset packs will eventually pay off in a big way once I see the first handful of fair, unbiased ratings emerge from customers. I know a few thousand people have found my itch.io profile and that despite my attempts to promote it, sales are slow BECAUSE there are no user reviews posted by any customers yet. Once there's a critical mass of feedback visible, though, I think it'll sort of cascade suddenly. That'd be nice because it would help me get more of my projects moving forward faster and better, not just these assets but also a few indie games. For this reason, I'm hoping people will decide to take a moment to review my work.
WHY USER REVIEWS ARE OFTEN SKEWED AND INACCURATE:
Most people only review products that they felt strong reactions, especially negative reactions, to. This is a well-documented review-curve pattern across many platforms.
If an item was great, better than expected, roughly 10% of users review it.
If it was passable or okay, or 'roughly as expected', less than 10%.
If it was outright bad, disappointing or infuriating / broken, odds of a review being posted are well [ABOVE] 10%.
The result of this is a frustrating internet-wide pattern in which the best products are often reviewed unfairly [too negatively] and a few of the worst ones, are reviewed far too positively, usually because many of the reviews are fake or 'paid' by the company that made the product. I don't want to do that. Which sadly means it may be a while before any feedback shows up. But when it does, at least it'll be real feedback from an actual customer. That matters to me.
COMMENTS & REQUESTS WELCOMED:
I hope to hear some responses from all of you. Let me know what I'm doing right - and what I still need to add or work on! If, for example, I'm seeing a number of people all requesting a certain type of texture, 3d object, or video VFX element I may make that a priority in later updates. So I WILL respond to your feedback as much as I reasonably can. I welcome your replies.
A BIG THANK YOU to the people who have already purchased, some of you even tipped! THANK YOU!
Purchase
In order to download this asset pack you must purchase it at or above the minimum price of $1.20 USD. You will get access to the following files:
2020-bonus-texture-asset-pack-win-osx-linux.zip
302 MB