7 Blood/Horror FX Elements [free]
A downloadable asset pack
What's in the downloads:
The first is is a package of three simple free particle animation clips, as seen in the cover .GIF, downloadable in 1080p .mp4 video format. The total length of the clips is about 30 seconds, they all play one after another in a single video file with about a second of blank space in between each effect. So, same essential effects seen in the cover graphic, but much nicer resolution, minimal compression, the effects play back a bit slower with better frame rate, and without the text overlay.
There are two big gushing bullet-hit style exit-wound blood sprays from the side, similar looking effects but not quite identical, and one that goes into camera, then hits an invisible wall and slides down. Not amazing effect quality, not real-world photographic content [it's a 3d simulated particle effect and not actual liquid!], and there's not very much here generally, compared to my big stock-media packs but it is something for free, so there's that.
As the more experienced compositors here will already have figured out just based on the .GIF preview, this video can be layered onto a horror/action shot in a cutscene or video project, using a blend mode like 'darken' or with a luminance key.
UPDATE (JUNE 2021) : It continues to be abundantly clear that this asset pack, despite being quite likely my weakest listing on itch, is also somehow my most popular.
Over 7000 views. Well upwards of a hundred downloads.
That is crazy - and it likely has much to do with it being free, and being connected to the horror genre which has proven immensely popular on the itch platform.
So I just posted an update with more free content added to this pack!
Take a look at the [newly added] additional downloadable - blood-elements.zip! It has four new files including video of 'blood' dripping and gushing, as well as a bloody handprint .png decal. I advise using the .png with a 'multiply' blend mode over your existing texture.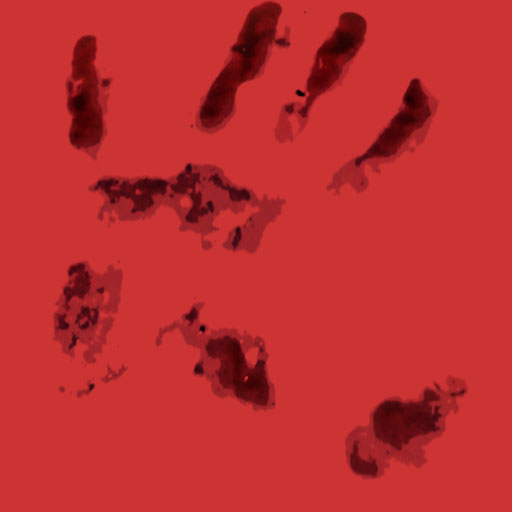 I have a list of dozens of other asset ideas that could be added to this. It's actually a somewhat disturbing list covering a whole gamut of creepy, scary, disturbing horror elements that in some cases may make people genuinely uncomfortable. (there is a fair amount of blood and body horror in the mix but also plenty of more general-purpose spooky/creepy stuff.
If anybody here wants more horror stuff added, though, this should be music to your ears (or mind-melting eldritch shrieking?)
Right now, there are 7 free things for the 7000+ views of the page. And I agree to add another horrifying horror-genre thing to this asset pack for every additional thousand pageviews accumulated here.
Maybe that will have some beneficial knock-on effects for my other asset packs too.
We'll see.
There are other freebies around here too - like on the free explosion effect page. I also have a free snow overlay clip if you want that, plus an 'Autumn/Halloween' mini pack for free now as a bonus addition posted on the 'Forests & Flowers' asset pack page!

These effects clips, the first three, amazingly started off by accident. These were originally meant to be included in the Autumn 2018 collection which I'm currently selling, but they weren't ready in time. As was promised on that product page, I posted these extra elements for free. The overwhelming majority of my effects elements and other asset files on matthornb.itch.io are in paid collections, but they're not expensive, and they're going to all be over 90% off bundled during most major sales, and I'll even throw in a preorder of my upcoming indie game 'Miniature Multiverse' and several other indie games that are finally getting close to completion.
NEXT BIG SALE: EASTER 2023, April 7 to 9, 2023
At that time, all 3000+ existing asset files plus all future updates to those, and indie games when they release, bundled for $2.20.
While donations are welcome here, I'd rather you buy my paid collections instead as you'll gain far more for the money as a result!
Anyway, thanks for all the support you all have given so far, and I hope you find some of my stuff useful. If you download or buy a few of my items, any ratings/review/comments would be great too and will give future viewers of these pages more of an idea of what to expect from these collections.
One more thing: If you do decide to leave feedback anywhere on any of my product pages [either my free or paid product pages], i.e. a review, star rating, comment, question, a suggestion maybe for future updates... well, that'd not only be helpful to me and others browsing these pages, but your suggestions might actually impact what gets added or changed in the future! So go ahead and feel free to post here!
Download
Click download now to get access to the following files:
Blood-spray-clips.mp4
79 MB