Miniature Multiverse
MINIATURE MULTIVERSE began with a daydream of an idea - what if you could wander around miniature settings, like a model railroad layout or similar, in first person view?

Then, slowly, the process for how that could be done was figured out. I used a high-resolution camera, to shoot stills downwards towards miniature worlds, with an optical zoom and macro lens, focusing carefully and very still, on a large reflective chrome ball bearing positioned in various places within the miniature environments.
Having captured many dozens of stills of many dozens of points in the miniature landscapes, I then used a polar coordinate unwrap in Photoshop to extract equirectangular panoramas from the reflections in the ball bearing - pulling 360-degree views from each usable photo.
The concept was shown for the first time in a Kickstarter that failed due to lack of effective promotion, in 2011. Despite the weak immediate response, the KS staff said they loved the project (with a 'Projects we Love' designation) and there were a few people months afterward who said they thought the idea was brilliant and wished it would still happen, including several who only found out about it after it had failed.
So here's the core situation. Yes, the KS failed. But since then I have slowly built up resources to make the project happen anyway... or at least a limited form of it. Now I'm getting the three initial worlds - PRYME, VYRSUL, and LOKUS, released, you will be able to explore them and wander around the virtual tour, which contains well in excess of 30 panoramic nodes so far. I would call this a walking simulator except its interface is not full realtime 3D - it's panoramic nodes - from a technical standpoint much like the ones you see on high-end real estate sites but way more aesthetically unique.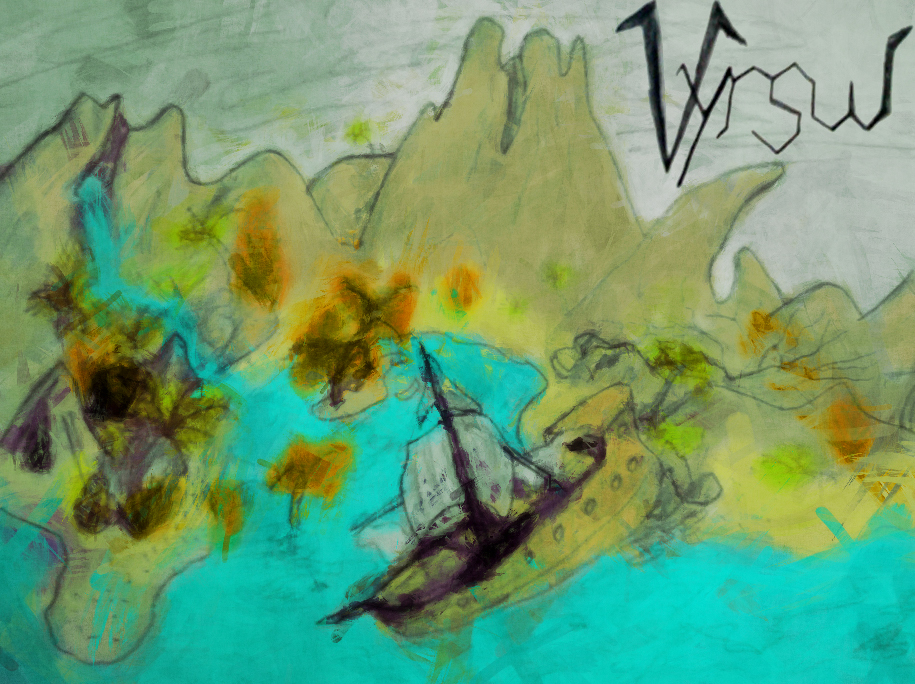 Vyrsul concept art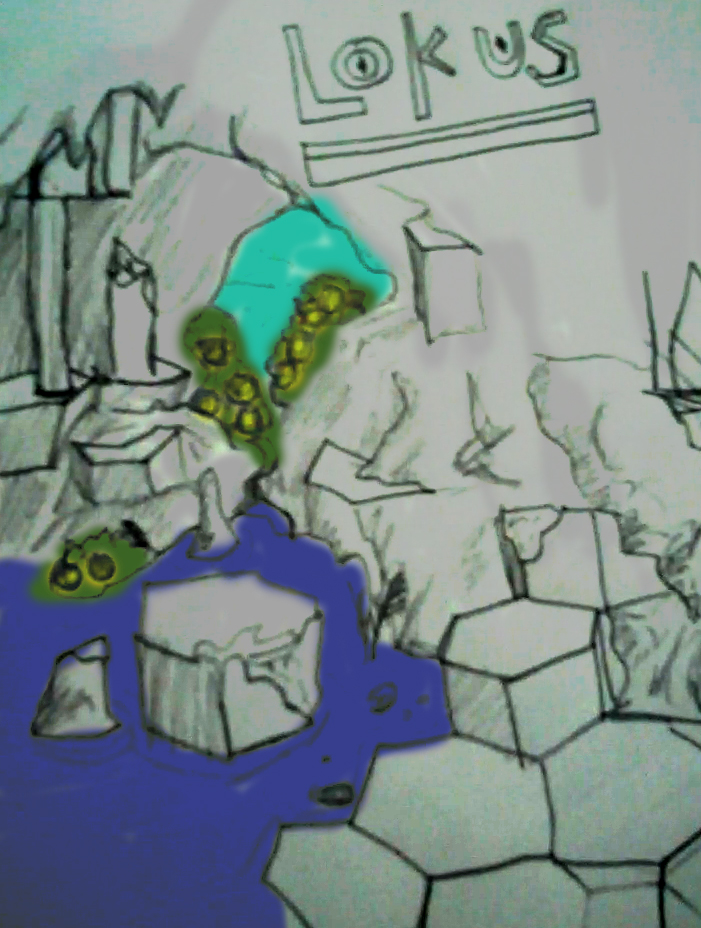 Lokus concept art
There is some digital animation blended in, usually the skies are by necessity, digitally added [otherwise when you'd look up you'd see the roof of my garage and the camera that's taking the picture!] and some other elements are likewise 3D. I felt that digital fluid simulation, for example, would move more nicely than a stop-motion or still ocean, and to that end I took a simple 3d version of the worlds as needed, and ran fluid simulation through that. It has been a long and computationally intensive process, and within the next 72 hours many of the fruits of this process will be visible online, on this page!

Vyrsul - a world sculpted in miniature.
The worlds have been fully physically assembled and photographed as of Sept. 12, 2017. At this point it's just a matter of integrating all remaining content into the tour with animation, audio, etc all layered in for the still-incomplete portions of the tour, all working correctly. That process isn't quite done yet but it's getting close. I hope to release an actual viable version of the tour soon* - soon as in a few days before the end of September 2017 if that proves to be possible.
As for the game engine, this uses Unity 5.6.3, and the tour system makes extensive use of PlayMaker's visual scripting, along with other assets such as a bunch of very nice postprocess shaders and effects.
Between miniature supplies and handcrafting the models, the Unity assets, and the camera stuff, I think it has easily wound up being a $700+ effort that also involved a large amount of work and time on my part. And if it succeeds, it's only the start. You may have noticed that I am working on a long list of games - yes, actual first-person realtime 3d adventure games - including Spiral Skies, Vortex, Panoramic Worlds, and Isola. I'm also doing a few other visually appealing game projects in other genres, such as a top-down arcade racer, a pinball game, and a miniature golf game which is called "Vivid Minigolf" but which uses miniature courses, thus resulting in the joke that it's 'miniature miniature golf'. And then there are some other unrelated things like a video channel, still art, stuff like that.
But bottom line: Any purchases you make here - buying Miniature Multiverse, or tipping, will go towards updates, and more creative work. It won't be wasted, I'll use it efficiently. 50% of the amount I make here [in sales] will be focused on expanding Miniature Multiverse... with another 30% going towards completion of other projects of similar first-person exploration nature. (Spiral Skies, Panoramic Worlds, etc), 10% to Itch.IO, and the remaining 10% funding unrelated but genuinely artistically creative projects- video productions, other games in different genres, and the like.
For every 200 buyers, roughly, I'll add another large world or several smaller ones, as free updates to this tour. I'm not kidding. This is actually going to be a very efficient development process. And 100% of any generous tips you give in support beyond the price, are directed to this project, nowhere else.
I'm optimistic that when this launches (soon) it'll be successful enough to sustain active development for a long time. If you're wondering where the images and video are, this is just the first draft of the page - a lot of visual stuff will be uploaded in a matter of hours. Until then, check out the official website, also rapidly developing, MiniatureMultiverse.com.