Miniature Multiverse Extras
A downloadable bonus PDF & extras
GOING LIVE IN 2020 [Feb. 24th, to be exact]:
Miniature Multiverse Extra Bonus Content.
Including:
-A small early pre-release preview demo, so you can try a little sample, about the first 10-12%, of Miniature Multiverse well before the full game's release. This demo includes the first of four major regions of Lokus, plus Pryme and Vyrsul. Based on what everyone's seen up until now, that sounds like a large chunk of the game but it really is not that much. It's essentially 3 of the game's 25 substantial areas. There's also a larger version due to be posted on the MiniatureMultiverse page, which will be initially include about 25% of the full game but with additional batches of content added as updates until it's at 100% completed by late 2020.

-A making-of [behind the scenes] ebook in PDF format, detailing development of the game from the early inception of the concept in 2010 to the release around the end of 2020, including photography, concept art, curated documents created during the design process, etc. There's also a hint guide section for anyone who'll be struggling with the game's puzzles, with three levels of help ranging from a vague nudge to a clearer second hint to an outright solution. Embedded animations will also be included in various areas of the PDF.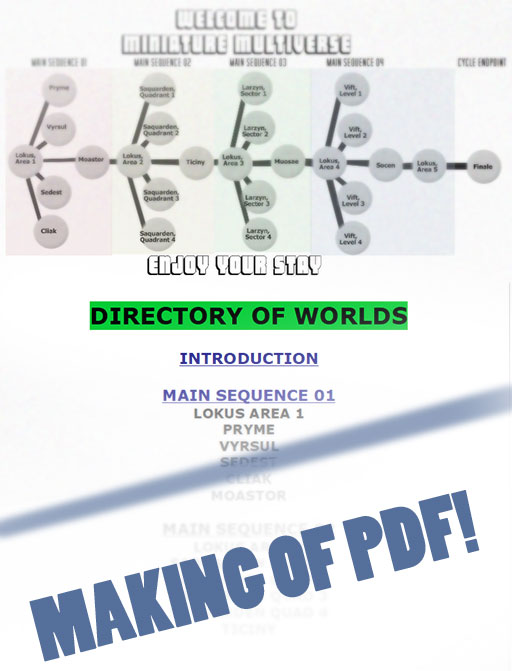 -Finally, anyone buying this between release of the extras pack and release of the finished game, will be able to send me their name or some other short message, up to 30 characters, to be engraved in a stone monument in the final game area which is to say, realm #25. So for $1, you'll get some extras, sure, but your message will be memorialized in the game itself, indefinitely. This is only a possibility for early adopters, people who are excited about this project before most of the world even realizes it exists! If you buy this or the game itself prior to the fully released form, but do not message me, I'll use your Itch.IO username as the name engraved. If that is not what you want, please be sure to let me know.
Also:
Periodic updates will be added to the PDF as time of full launch approaches, namely a bit more photography and animation related to the later areas of the game.
Finally, sales often pop up here so if this seems somehow too expensive, wait 2-3 months. I'm sure a sale will come around every now and then.