Stock 3d 'Marshes & Meadows' model pack
A downloadable asset pack
WHAT IS THIS PACKAGE?
This package of 3d nature models, designed to be useful for 3d marsh/swamp/coastal scenes or fields/meadow landscapes, is one that I'm still actively developing with free updates.
I first released this on November 20th, 2018, with a brand new patch update at the start of February 2019 and a further update still scheduled for later in 2019. This package includes various meshes all in both .FBX and .OBJ formats, with related texture maps (.PNG and .JPG, generally) which, at this time, total a little over a dozen plant variants, two rocks, along with three other 'demo scene' models [a terrain, a skydome, and a water surface]

While this number of objects may seem unimpressive at first glance, recall that my plan was to include 'well over 25' models, and I still intend to do so, through a series of updates over time.
The pack will typically retail at $1.25 on Itch.IO from here on out - however, it will go on sale sometimes, so keep an eye out for that!
Here's a big 1080p HD resolution version of that cover image for anyone who's curious about the original scene I put together to showcase the first ten models in the collection. The alignment of the plants isn't always logical - some flowers underwater - but this is nonetheless a good example of a typical type of scene that can be created with some of the various plant objects included in this asset pack:
Note that all plants in the package are relatively low-poly and potentially suitable for use in games, not just pre-rendered art [VFX, architectural renders, cutscenes, and so on].
Initial launch contents:
-alligator weed, 2 variants
-cattails, 2 variants
-lilypad and two types of lily flowers
-several types of grass tufts
-three ferns
-a folder with water surface animation [.png sequence] and sky texture, terrain texture and associated meshes.
February 2019 additions - posted with Butler as of Feb. 2, 2019:
- simple low-poly rocks (variants with and without moss)
- a textured 3d bald cypress tree model.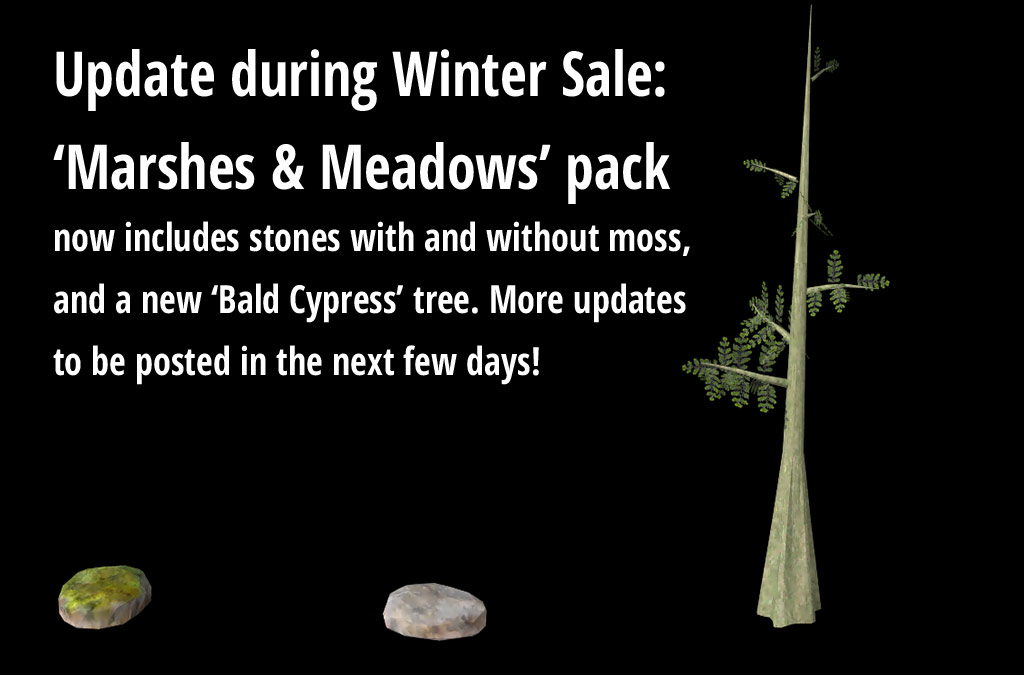 Other items will be added to this set in a free update in late Sept. 2019, a major update with a number of new models across this and my other 2019 asset packs. I'm working hard on getting all of this ready so you can conveniently use it in your own creative projects. Here is one example: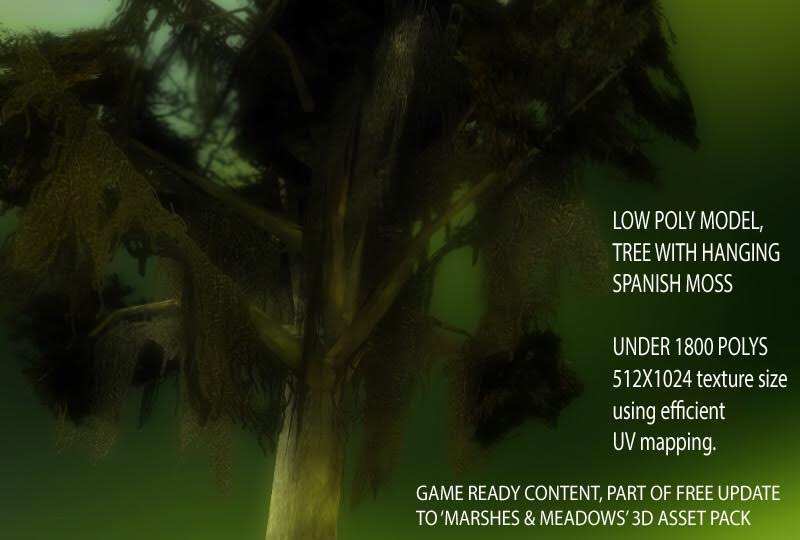 NOTE: I'm making even wider ranges of trees and forest details plus many more flowers and bushes, for my other stock 3d collections "Forests & Flowers" and "Snow & Sand". My aim now, is to keep updating these so the three collections include a total of over a hundred 3d models before the end of 2019... enough to fill just about any type of nature scene you might want to make!
So, yeah, thanks for your interest in this nature asset pack! Please feel free to rate, comment, follow, bookmark... I have some amazing things on the way and I hope you'll like them!
Purchase
In order to download this asset pack you must purchase it at or above the minimum price of $1.25 USD. You will get access to the following files:
stock-3d-nature-models-pack-win-osx-linux.zip
226 MB