Huge texture pack on the way (+ other updates)
---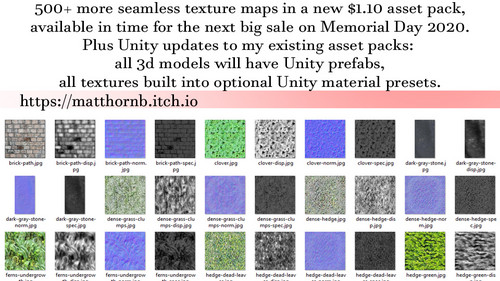 Asset pack updates - scheduled releases:
Watch out for a new asset pack to be posted by Mother's Day 2020, featuring at least 200 texture maps at the outset and frequent added updates, over 500 by late May. There is not likely to be much of a sale on Mother's Day, at least not on my itch profile, but there should be a big sale going on within my Etsy shop then so... that's something.
The new texture maps in the new asset pack, are usually at least 1024x1024 [one megapixel] and most are bigger. They're seamlessly tiling, and have associated bump/displacement, normal, and specular maps. A few of them also have opacity maps and/or alpha channels. They're based on photographic sources from the real world, photographed and made seamless.
There's also a planned revision of all my existing texture and 3d assets to include Unity prefabs + Unity materials in the packages, so all the 3d objects and textures can be easily, conveniently dragged into a Unity project and quickly used there.
A later Memorial Day sale will coincide with the release of another new asset pack, a 3d pack which at launch will have over a dozen 3d interior objects and furniture items, to be followed by further updates to over 30 objects by July 4th, which will be another major sale day. For anyone wondering where all this is being posted, it's on https://matthornb.itch.io/ - that's where my asset packs and indie game projects are posted.
Finally, as many people continue to load outdated pages on http://www.triumphantartists.com/ I will remind all of you who have viewed my website in the past to go to the main page and then hit refresh if you want to be certain to see the newest version. There's been a massive update but a sizable number of users are still not seeing the changes I've made or any of the recent content.
Get Triumphant Artists Complete Collection 2018