Vivid Minigolf Redux
A downloadable game for Windows, macOS, and Linux
VIVID MINIGOLF, originally, was a limited top-down minigolf game with miniature art visuals.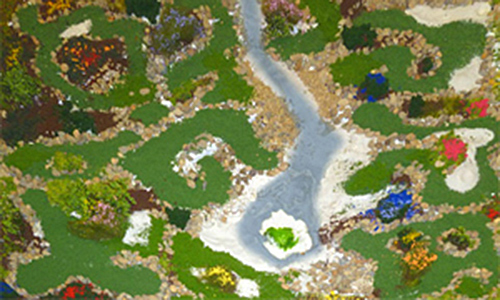 It was first made, foolishly, in a program called 'Gamesalad' that imposed a very arbitrary 10mb limit on HTML5 games. The original version of this game was showcased on VividMinigolf.com, but the Gamesalad Arcade version - the original game - effectively no longer exists.
Well, since 2014 I have rebuilt that game's essential interactions in an entirely different engine for HD with largely the same but far less compressed charming scale miniature art graphics (an old joke is that it's miniature miniature golf) and new courses and holes in the works. The game is solved, essentially, in critical core interaction terms and design... now with only a couple of minor bugs remaining to quash. And I think they can be fixed soon.
I now aim to get the base nine hole game posted here for free very soon.
The base nine hole course version, free from the start, sooner than you'd think, as in by end of 2021, but there is a plan to make an ongoing, expanding set of courses in a paid version. It is possible to pay for the full version even now (before even the free one is posted) and anybody doing so... you have my thanks.
If the sale this Thanksgiving goes well between here and Etsy I know I will be able to get the full version done fast now that I have solved many of the core interaction issues. The game will be available before end of December 2021, along with Panoramic Worlds HD. What won't be, is Miniature Multiverse - but if these smaller first launches go well, it can absolutely become my sole focus for Q1 2022, ready to release by March or maybe April next year.
I want to get the following five elaborate new courses done for the initial batch of nine-hole courses:
- desert (Southwest, a lot of sand and cacti, snakes, rugged rock features, etc)
- Japan (think Japanese garden golf course where sand traps look more like a Zen garden, trees, bamboo, waterfalls..)
-a summer forest course that feels a bit more like a realistic standard styled golf course with emphasis on nature and greenery everywhere. Plus other 'amenities' of a suburban country club sort.
-winter (slope of a snowy mountain, snowy pines, ice as an occasional obstacle with lowered friction, opposite of sand that would slow the ball. This course even has a cabin with a campfire outside it...)
- Hawaiian tropical isle with lush palms, flowering bushes, ferns, water and beaches and a volcano even... )
-Autumn forest (fall trees, with colorful falling leaves and a creek, the occasional deer)
--- That is the first six planned new course additions. Nine holes each. If I can push hard and get the more limited base game fully working and posted by Thanksgiving (Nov. 25) maybe you all could place orders of this or the big sale bundle during that sale. I'm aiming for $500 ideally between Etsy and Itch as that would streamline all remaining costs in wrapping up both this AND Miniature Multiverse, that amount would allow me to focus fully on gamedev the next few months and avoid wasting time on mTurk, etc, trying to cover it. If the sale goes well and even remotely approaches that amount, I can suddenly imagine getting both the six course version of Vivid Minigolf and the full version of Miniature Multiverse out there by the end of Q1 2022.
But if late 2021 sales and activity aren't so great, yeah, expect another span of waiting and Miniature Multiverse launching in mid 2022 instead.
So the simple nine-hole minigame maybe late 2021 now... exciting? I figured out a careful way to scratchbuild as much as possible and cheat wherever I could on the visuals without compromising thhe final visual result. Sometimes that means some objects are the wrong scale because that is cheaper and they're *frequently* now photographed as separate elements against flat keyable backing, scaled to match the rest of the scene. Often the materials are cheap stuff that is carefully built into a form that looks a bit more impressive than what it was made with. And often I design courses around what I already have material and supply wise, so all this brings cost of assembling six new courses to, about $2 per hole or $18 for each nine hole course. (On average - some cost less, some a bit more)
Beyond that, even, more courses may be added over time in free updates for all existing buyers. I'm also aiming for a Steam release of the full game too, roughly coinciding with the full itch release. But... premium version not actually posted on Steam until a bit later because of Steam's stupid $100 fee per game.
Maybe also Gamejolt, and the free base version could also end up somewhere like Newgrounds, Kongregate, and of course VividMinigolf.com. I have the ability to make it run in a web browser, so... yeah. I might even have an .apk Android app version available at some point down the road.
Purchase
In order to download this game you must purchase it at or above the minimum price of $1.45 USD. You will get access to the following files: