Vivid Minigolf Redux
VIVID MINIGOLF, originally, was a limited top-down minigolf game with miniature art visuals.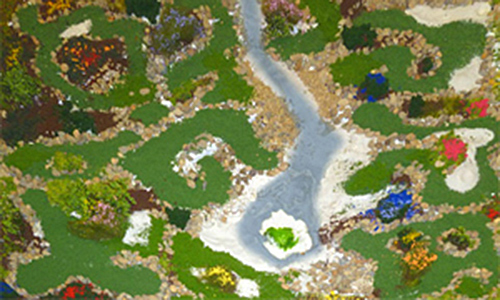 It was first made, foolishly, in a program called 'Gamesalad' that imposed a very arbitrary 10mb limit on HTML5 games. The original version of this game was showcased on VividMinigolf.com, but the Gamesalad Arcade version - the original game - effectively no longer exists.
Well, since 2014 I have rebuilt that game's essential interactions in an entirely different engine (Scirra's Construct 2) for HD with largely the same but far less compressed charming HO scale miniature art graphics (an old joke is that it's miniature miniature golf) and new courses and holes in the works. The game is solved, essentially, in critical core interaction terms and design... with only a few bugs remaining to quash.
I now aim to get the base nine hole game posted here for all who are willing to pay for it, or who have bought all my content in one of my gigantic 90+% off sale bundles. When the next few courses are ready to add, the first version will become freeware and the expanded version will be paid software.
That formula is likely to become standard here, actually - applicable also to Panoramic Worlds and Miniature Multiverse, ie. a limited starter chunk of each of these games will be posted early on for buyers to play early. Then when there is a lot more ready to add, a fully finished game, that will become the paid content - and the early sample posted as paid at one point, will end up being a free demo at that time.
That time, would be about 6-9 months later. That is how long it'll take to wrap all the later remaining sections up and get them polished and working smoothly.
So the simple nine-hole minigame maybe early 2021.
By late 2021 after 'Miniature Multiverse' launches, a massively improved version with at least three additional courses, goes out to all existing itch.IO buyers at that point. At that point the original version goes freeware. Beyond that, even, more courses may be added over time in free updates for all existing buyers. There will also be a Steam release of the full game, roughly coinciding with this new itch release.